Reasons Why You Should Use a Makeup Primer
Not only for beautify yourself, but makeup also has a function to make your skin looks better. Also makeup is meant to enhance your best features and give you a platform to express yourself. But no one wants to spend time and energy applying makeup just for it to melt away from the heat or get rubbed off by sweat. That's why no makeup kit is complete without a reliable face primer.
If you want to ensure that your make up applies better and stay on longer then you must have the best makeup primer on your hand and you also know everything about this product. For instance, how to apply it, mistakes made by people do while applying things, best products available today, etc.
What is the Purpose of a Makeup Primer?
Having large pores and wants to hide it? Primer is the solution. Makeup primer seals our pores and thus it is a must-have for ladies with large pores. While foundations are not able to cover your large pores totally, a makeup primer seals the pores and covers them beautifully. They won't clog your pores and irritate your skin. What these primers actually do is that they create a blanket like cover over the pores, so that they become almost non-visible.
Not only pores but primer also hides your acnes. Acne is a tough battle to fight; and if you're struggling with acne, you are most likely sick and tired of your makeup not hiding all those awful blemishes. Acne can definitely cause some excess redness on the face; but even if you have acne or not, some women still struggle with redness of the face. The awesome thing about primer is it reduces redness the moment it is applied, which means you can enjoy a red-free face with just a dab of primer.
It also makes your makeup hydrated. Apply a thin layer of face primer with your fingertips before applying any makeup and after cleansing and hydrating your skin to create the perfect base for the rest of your makeup.
If you're worried about a makeup primer making you feel like you have a mask on, don't! They create a nice, soft finish to the skin that's almost like a velvety, super soft lotion. Honestly, my skin feels lighter and more beautiful with a makeup primer, than without.
Primer can be used on any type of skin or any type of skin color. It is the absolute best part about using a makeup primer is they work with any skin type, along with any skin color. There are no shades to choose from, so selections are easy. If you'd like to know the best brands of primer to use, read on for my favorites.
Makeup primers give us a more youthful look. Primers do not have any anti-aging benefits. However, if you apply makeup primer, fine lines are not visible and wrinkles appear to be creased out. Hence, skin looks young.
The most important feature of primer is your makeup stays for long: Primers ensure that sweating through facial pores is controlled. Thus, makeup stays on for longer hours.
Important Tips while applying Primer:
Before applying makeup primer prep your skin first l if you want your makeup to look flawless. Use a gentle cleanser to wash your face, exfoliate and apply a lightweight moisturizer before anything else. Let it sink into your skin.

Massaging a primer into your skin prior to the foundation (with clean hands, of course!) is a great way to apply it, but it isn't the only way. Consider mixing your primer into your foundation and applying them simultaneously. This will slightly sheer out the coverage but keep it long-lasting.

Don't forget to apply primer on your eyelids because the skin around our eyes is ultra-thin, resulting in fine lines, veins, and discoloration (hello, dark circles). Priming your eyelids can create a smooth and even foundation to begin building beautiful colors.

Kindly use a brush for applying primer. You can (and should) use a brush for priming smaller areas, like the lips or eyes. But for areas larger than a quarter, consider gently massaging your primer in with your fingers. This will get the blood circulating in your face (oh, hey, gorgeous blush) while the heat from your fingertips will melt the product into your skin.

You can also apply the primer alone. If you want smooth and even skin without all the heaviness of foundation, simply apply primer. You will look fresh-faced.

Kindly wait a full minute or more to allow the primer to dry completely before going in with makeup, as this will help to curb pilling or patchiness.
This is how your skin will look after application. You'll see that the appearance of your pores and fine lines has visibly reduced. Also, it helps tackle redness and smoothen out the texture of your skin.
Choosing a primer is like choosing any other type of makeup, there's a certain amount of thought that should go into it. Different types of primers come in different shades, and types. There's the jelly pack primer, which is geared for those who suffer from extremely dry skin. Then there are the mineral primers, which are more of a natural approach to evening out the skin before you apply the foundation. And above all else, there are the traditional primers that come in various tones, and these are probably the choices that you are going to come into contact with most often.
All makeup primers boil down to two important, distinct categories: silicone-based or water-based formulas. Should you be choosing a silicone-based primer or a water-based?
Silicone primers are miracle-workers for filling in pores, lines, acne scars, and rough spots. They also protect your skin from environmental elements by creating a barrier to keep out damaging free-radicals, while it keeps your makeup looking fresh and new for far longer than it would otherwise.
Water-based primers will either have none of the keywords listed above on the ingredients list, or more likely, will have some of these ingredients, but they will be much farther down the list of ingredients. Water-based primers are thinner, lighter, and more easily spreadable than silicone-based.
It's important to note that most water-based primers are not completely silicone-free. If you are looking to avoid silicone completely you will need to look for one that is labeled as silicone-free.
Best Primer available in the Market:
Maybelline Instant Age Rewind Primer Skin Transformer
The Maybelline Instant Age Rewind Primer for mature skin is one of the best formulas you'll find at a humble price at your local drugstore. This is the best primer for wrinkles as it's clear formula takes care of your issues by helping you create a smooth and soft surface. Also, if you have dull skin, it works great to add a healthy glow to your skin. A little goes a long way! This comes in a single shade and is best suited for mature skin which leans towards a dry to combination skin type. But the drawback is The formula claims to leave a subtle pink glow, but it does not.
Leaves you with a dewy finish

Minimizes the appearance of large pores

Silicone-based formula

Makeup stays for up to 3-6 hours longer

Affordable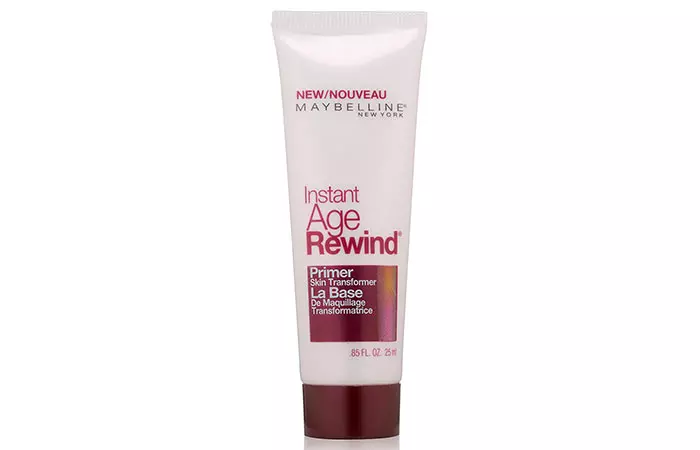 Hourglass Mineral Veil Primer
Going far beyond traditional formulations, Hourglass' Veil Mineral Primer is prepping perfection. A state-of-the-art formulation, this not only creates a smooth, even canvas for makeup, it also conceals redness, minimizes the appearance of pores and fine lines, prolongs the staying power of anything you apply after it and even 'waterproofs' make up! By repelling water, this ingenious formula will ensure that your make up can withstand even the most extreme weather (or emotions!). With a silky, cloud-like texture, it glides on smoothly, enhancing skin without adding weight or greasiness. Oil-free, it's suitable for sensitive and blemish-prone skin and contains SPF 15 protection to shield your complexion from the sun's damaging rays. If you're looking for bridal makeup, this is the perfect primer for your big day (or any big day you've got coming up, for that matter...)
While the Hourglass Primer Serum comes in two sizes, the travel size is really all you need for daily use. A drop or two of this ultra-hydrating primer goes a long way as long as you warm up the product first. The No. 28 serum comes in a frosted glass pump bottle that endures being tossed around in a makeup bag fairly well.
The "28" in the name refers to the packed ingredient list: 14 essential oils, 10 plant oils, and four vitamins. A lovely mixture of ylang-ylang, lavender, jojoba, evening primrose, sweet almond, and green tea nourish and prep dry skin for foundation.
Charlotte Tilbury Wonderglow Face Primer
This tan lotion has a ton of light-reflecting mica particles, giving you a radiant complexion the second you swipe it on. It also has slight blurring properties, so you can use it alone if you prefer a no-makeup makeup look, too. A primer with anti-aging properties that creates an instant soft-glow focus. Give your complexion an instant pick me up and create an effortlessly dewy look. Wonderglow is formulated with breakthrough light-reflecting microspheres, collagen-supporting peptides, and patented anti-wrinkle ingredients to turn the look of dull, dehydrated skin around in a flash. Its translucent formula blends seamlessly into any skin tone, while light diffusers blur away lines and add luminosity for a flawless, poreless, complexion. Use under foundation or on its own for sheer coverage, luminous glow.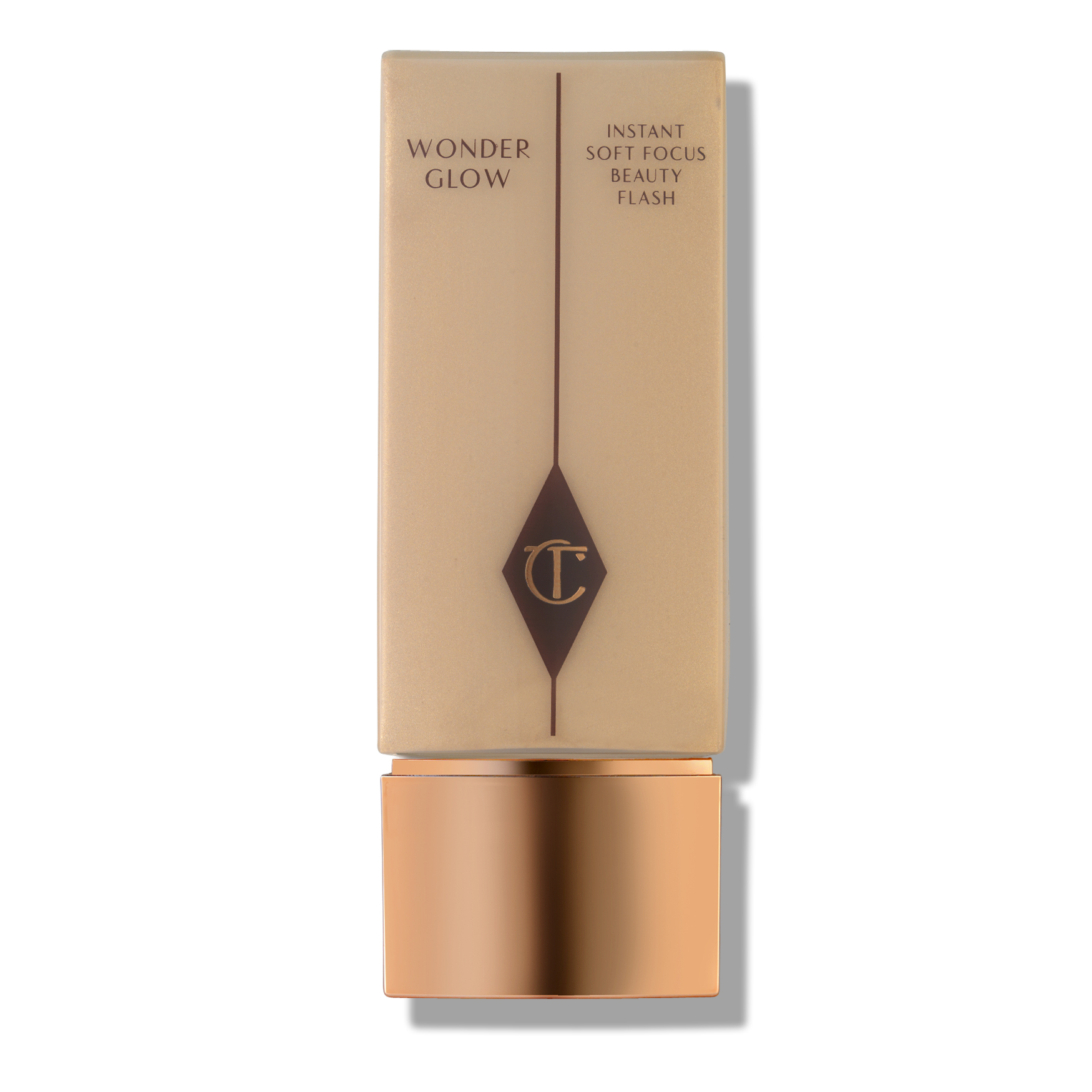 Smashbox Photo Finish Foundation Primer
Smashbox is one of the top dogs when it comes to primers. They have some of the best face primers that address different skin problems. No matter what your skin type, Smashbox has the face primer for you. It is still silicone-based so that it can reduce the visibility of pores and fine lines or wrinkles, but it won't give you any nasty breakouts and zits. While it promises up to 8 hours of oil-free makeup, many noted that shine and oil returned after about 6 hours. It's not the best for all-day to all-night events, but it can keep you looking matte for a short workday. This primer is water-resistant at best so it's also not ideal for hot, humid climates or workouts. But it leaves you with a silky soft finish so you can just swipe on your foundation. Make sure to blend out your foundation well and only use a tiny amount of this primer. Too much can leave your face feeling slick and as though there's a barrier between the skin and the foundation. For a more natural look, keep it concentrated on the oily parts of your face such as your T-zone and on spots that need pore-filling. It's also great for reducing the appearance of acne scars and it keeps your makeup on all day.
Key Features
Silicone-based formula

Good for sensitive skin

Non-greasy

Smooths out the texture on skin

Best for combination skin Oil-free

Paraben-free

Pore minimizing
DHC Velvet Skin Coat
Want that silky-smooth feeling on your skin? We live for DHC's Velvet Skin Coat, which adds a powdery-smooth finish to the skin. You can also use it on hands to blur imperfections! DHC Velvet Skin Coat makeup primer instantly smooths and improves the look of your skin. The gel texture sets to a smooth finish that minimizes the look of fine lines, pores and imperfections all while reducing oiliness to help makeup glide on and last longer. Plus, it leaves your skin feeling silky soft and looking fresh and flawless, whether you're wearing makeup or not.
Key Benefits:
The transparent, powdery gel texture

May be worn alone for a flawless, natural look

Used by professional makeup artists worldwide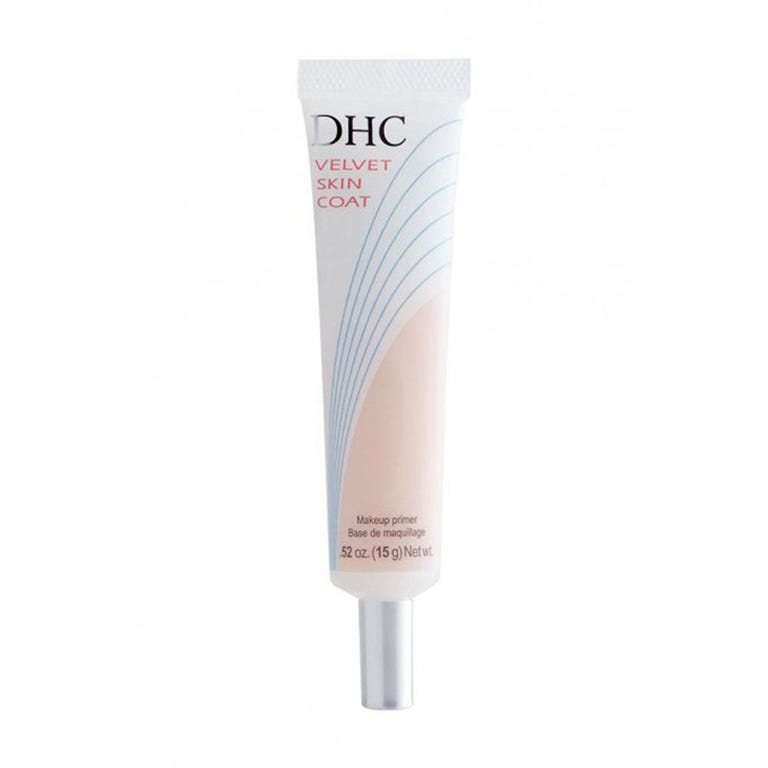 This is how Makeup primers help you create a smooth, flawless base when applying your favorite foundation or face makeup. Whether you like to apply a full face of makeup every day or prefer a more simplistic approach to beauty, primer may be the best new addition to your makeup bag.